san miguel adventure fun time part four of six-
recorrido
The major take-aways:
do your homework and take a tour or two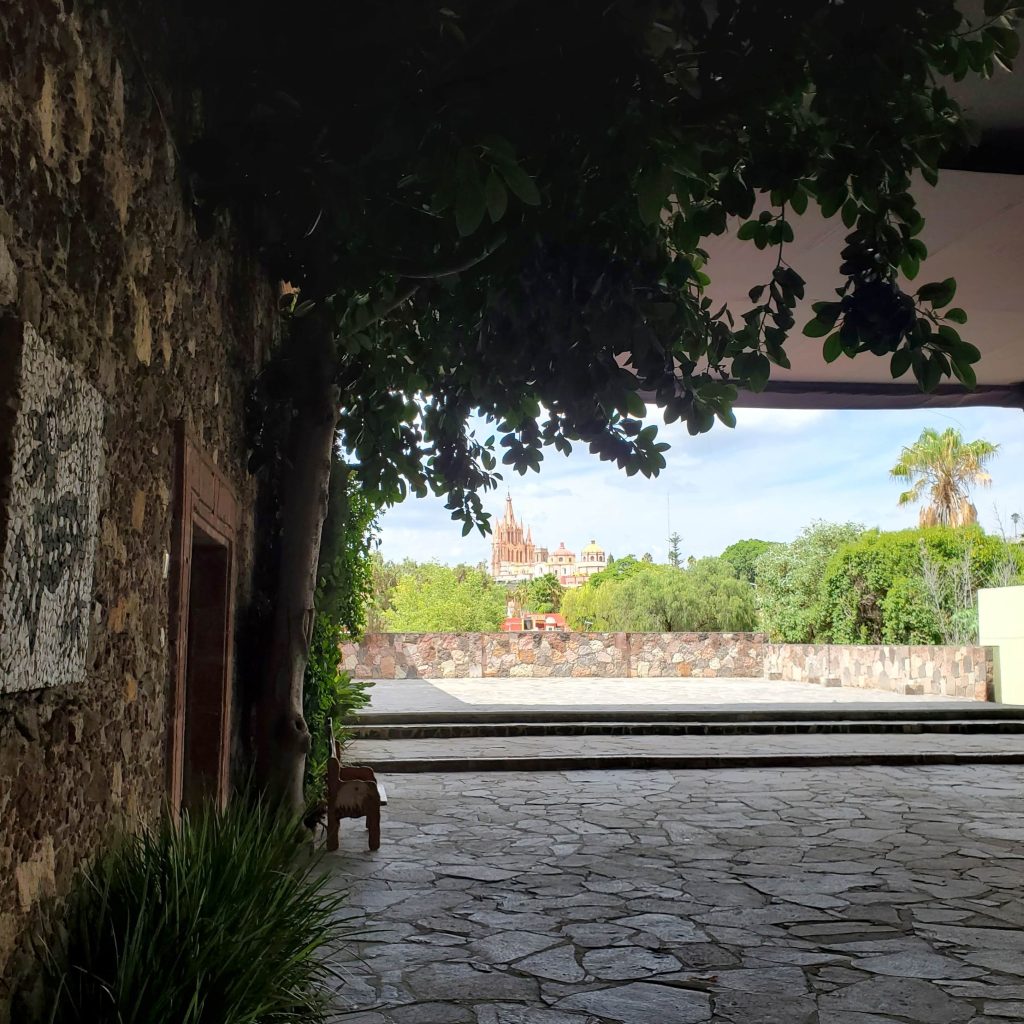 Guided, unguided- whatever you choose get out and tour around San Miguel.
If you are able to deal with cobble stones and comically narrow sidewalks, walking ultimately is the best way to see the city.
You never know what you will find when out on foot.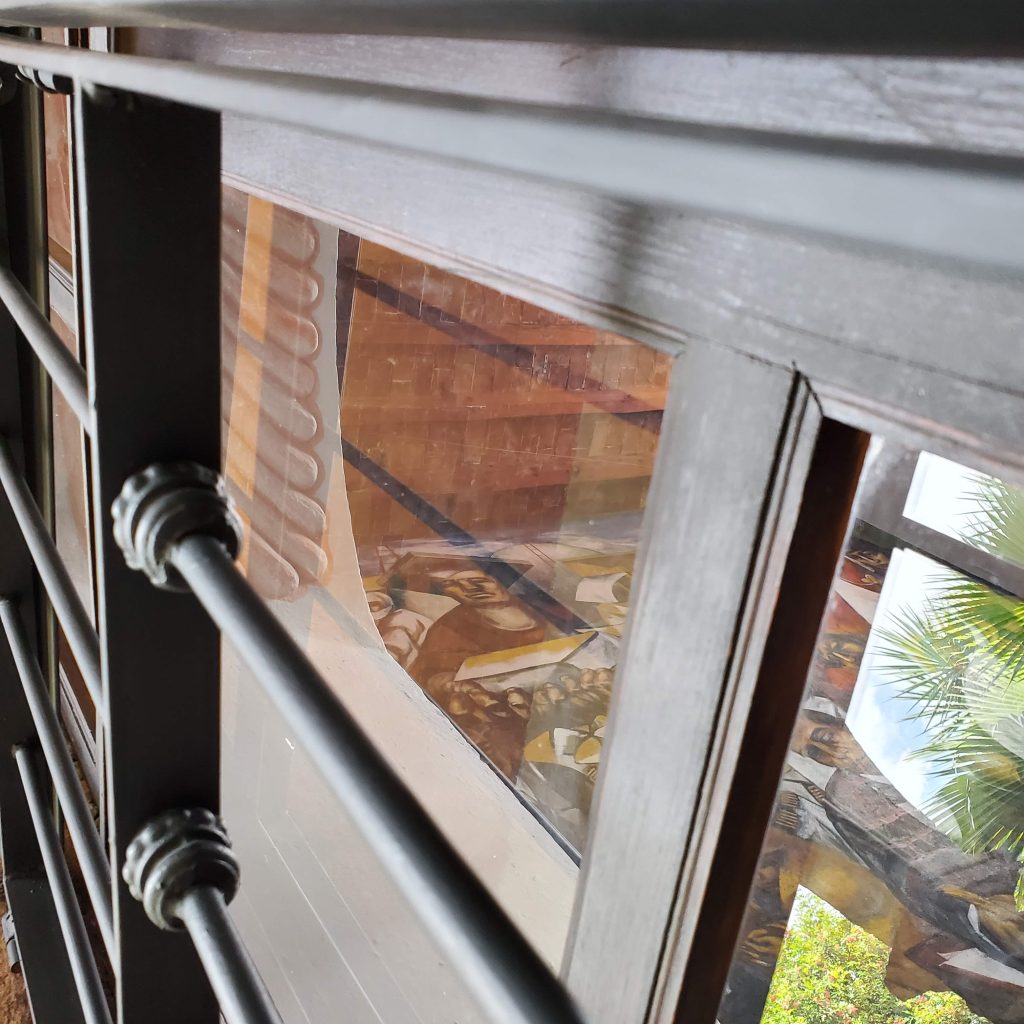 Within a few days we got to see several wedding parties in El Parque Benito Juarez. A place which seemed to be the epicenter of all boda-dom, of all wedding-ness. These festive events are called callejonadas. The ones at the parque would be something like this:
At an appointed time people would gather at this one particular gazebo. There would be wedding party guests dressed in white clothing with small clay drinking cups hanging at their necks, a mariachi band, a man with a festive donkey bearing tequila, two sturdy people wearing the appropriate mojigangas, and at least one professional photographer.
The participants would sing and dance and parade around with the mojigangas– these giant puppets that represent the bride and groom, and take shots of tequila to lighten the donkey's load.
More than once a custom that is least 500 years old played out effortlessly in font of me. I cried a little behind my sunglasses.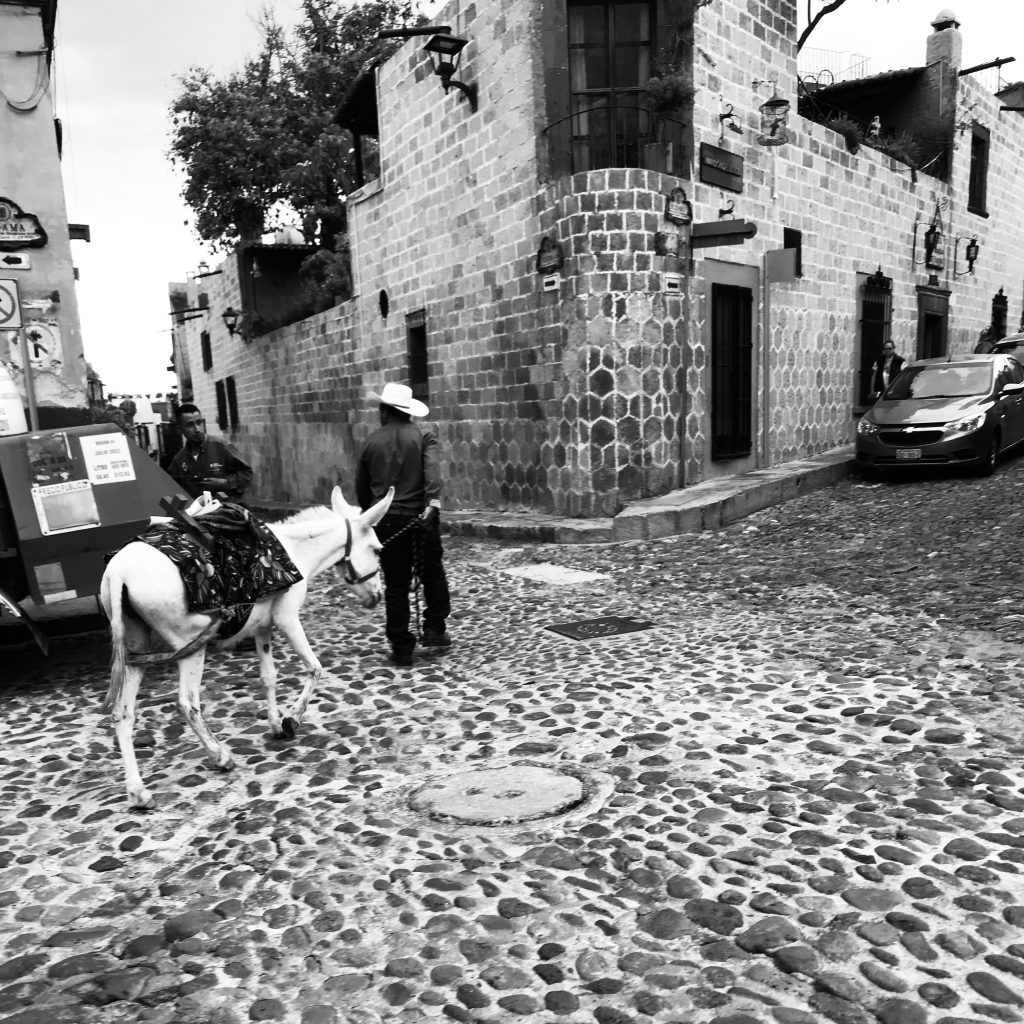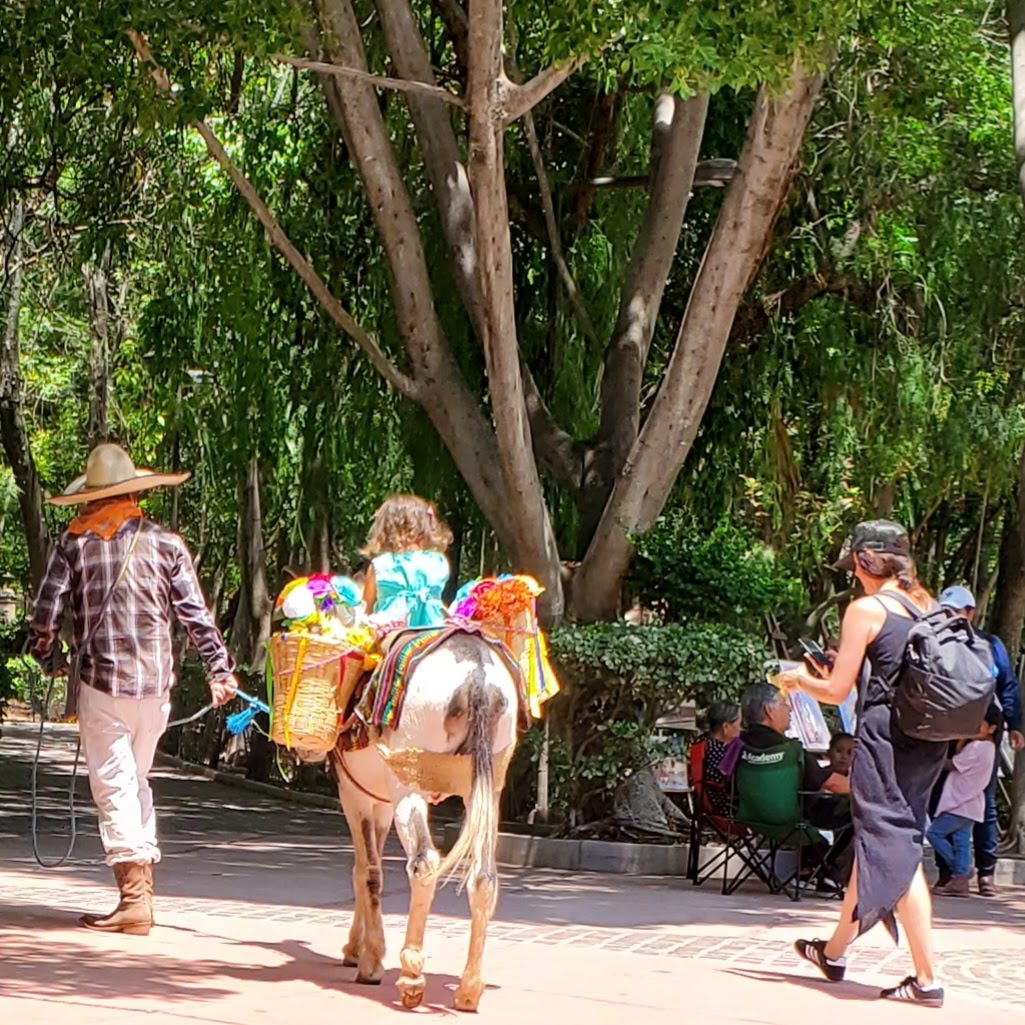 I love that donkeys have ceremonial purpose these days in Mexico. Of course, if you are still wee in stature, you can ride around the park on one. Such a small burden compared to- oh, something like: nation building.
Another place that was worth the walk was Aurora Fabrica.
We thought a film festival event was being held there and took a stroll only to find that there was no event at all. We misread the messages. But that didn't matter.
The place itself, it turned out, was basically an ongoing art fair.
An entire textile mill complex was converted into an art and design center. It is now a hub for the locals creatives to have studio and gallery space. You can even take workshops and classes there!
The quality of the work you find runs the gamut. And they are not selling cheap. For New York, yes, but not for Mexico. The price tag is an earnest request to respect the artist. There is no haggling for a better deal.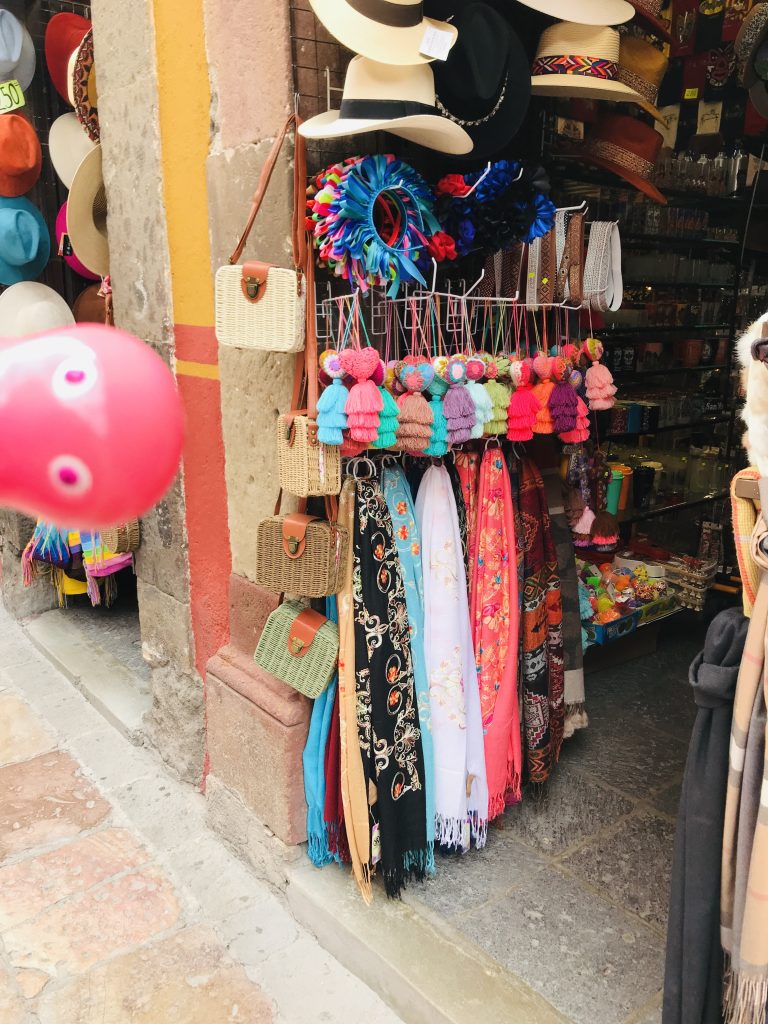 Arts and crafts is everywhere you look in San Miguel. When walking you can discover all the little tienda boutiques selling textile wonders, fine pottery, leather work, jewelry, kitschy paintings-
Need a hand-woven mini tapestry of Groot? Yes, they have that.
If you are inclined to shop, bring less in your suitcase. Or an extra suitcase. There are so many fun things for sale you can have all of your gift giving occasions covered in one go!
It's not all going to be locally made so buyer be aware.
If you are into architecture, most of the buildings are stone constructions with an open courtyard in the middle.
It's fun to peak into different buildings and see how the uses of the spaces has changed over the years. Some establishments like to keep the old world charm while others integrate sleek, modern elements into their design schemes. Now, no new buildings may be constructed at all. Its all about preservation of what is there.
When on foot you can easily work up an appetite and then let yourself be lured by enticing smells from the restaurants, bakeries, and cafes. Foodies would be pleased to know that chefs abound!
If you work up 'the thirst,' there a few old-timey cantinas to crawl too. They even have the cute, old-timey wooden saloon doors.
Graffiti is prohibited in the city center. If you walk long enough you will start to see more of it and you will know you have probably walked too far from the center of town. And you should probably turn and head back. Unless you have business being out of the tourist area.
Sharp eyes can spot cheeky taggers putting their marks here and there in the historic center. I had mixed feelings when I saw a couple of fresh looking, strategically placed sticker tags. They were from a Brooklyn-based street artist I am acquainted with. I checked his Instagram and found out he was in San Miguel the same time I was. An odd coincidence. 
Don't want to walk for a while? Trolley tour roll around the streets providing some backstory to the beautiful buildings and landmarks around the city.
I didn't find out if there are any tours in English, but I did learn that the great Cantinflas fell in love with San Miguel and bought property there. The trolley guide also said something about Parque Benito Jaurez being so romantic that if two enter, three leave. I was like 'Oh cool! Hugo, let's go pick up a ghost. Let's go get haunted.' 
Heh heh. I don't think that's what the guide had in mind. 😉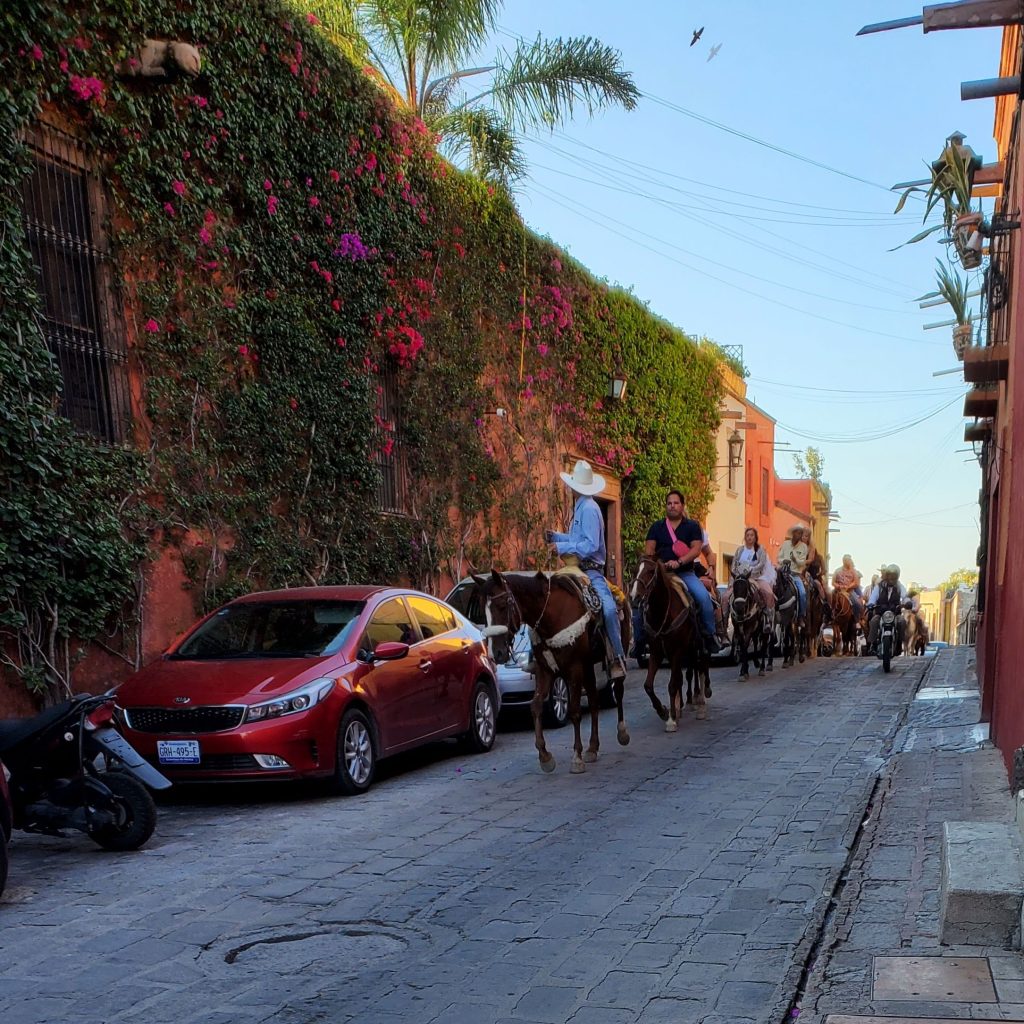 I had read about nearby ancient pyramid ruins and I thought we could go out and see them at Cañada de la Virgen, but once Hugo saw some tourists on horse back riding through the town he had it firmly in his head to take a riding tour.
That was how we were going to finish out the last full day of our trip.
With saddle sores.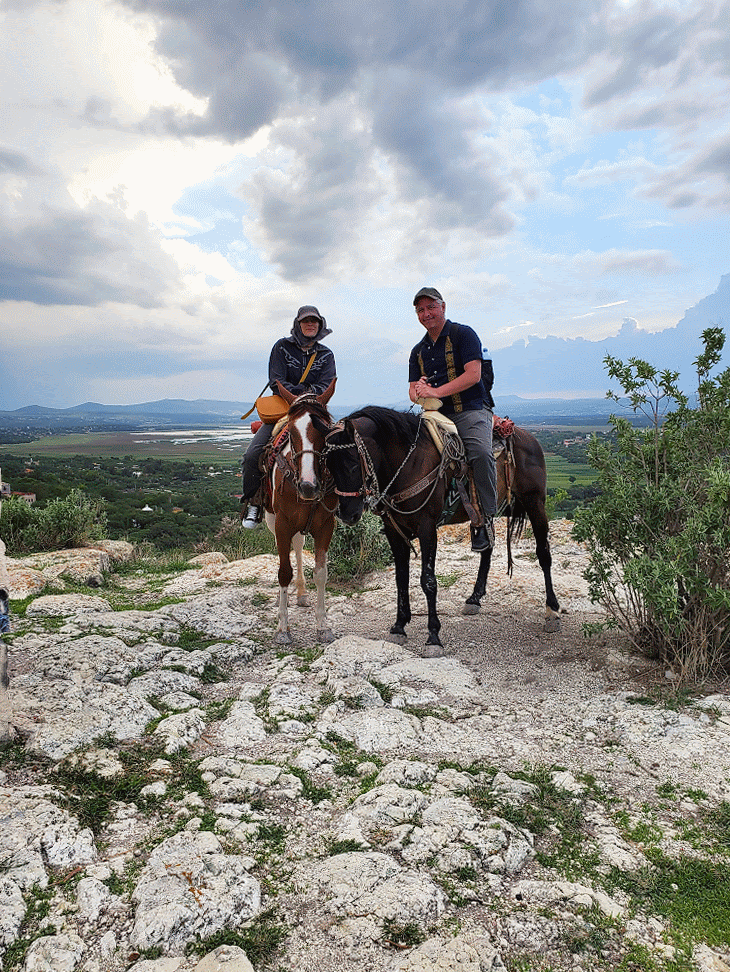 Honestly, I was nervous about taking a riding tour. I am very inexperienced with riding. I didn't have the proper shoes to go riding. I don't know a lot of the Spanish vocabulary associated with riding. Ugh, stresses.
Hugo was so serious about this horse riding tour that he took me shoe shopping.
The day before the ride we dedicated part of the afternoon to shopping for close-toed shoes so I could meet the foot gear requirement for the outing.
In a sweating rush I found a pair of knock-off Converse canvas shoes that fit and would be comfortable enough. Thank goodness I didn't have to run around to several shops! I was not in the mood or mental space for shoe shopping. You have to be prepared to send an attendant to the backroom to fetch shoes one pair at a time. It's a security measure, I assume, but a total hassle for someone who doesn't want to be ordering others around like that.
When we were at the tour company's office to fill out a waiver and wait for our driver, I was still feeling nervous. All that unease miraculously subsided once we got into the van and drove out to the stables. I still don't know how I was at ease enough to remember how to coordinate my body in order to mount a horse!
The horses are trained to pay attention to the guides more than the riders. Mine- called Indio- barely paid me any mind. I was probably more gentle on the reigns than he was used to, but he would always react more to the voice and perhaps light switch of a guide who rode behind me most of the way.
This was not a casual ride. We went up and down some fairly steep, rocky trails. For a novice, this was more advanced riding than I thought I would be doing. But at no time did I feel unsafe. Not even when we rode in traffic. I felt like these people and the horses knew what they were doing and would not let anything stupid happen if they could help it. It was, overall, very pleasant. And I didn't mind the inevitable aches the next day. It was worth it.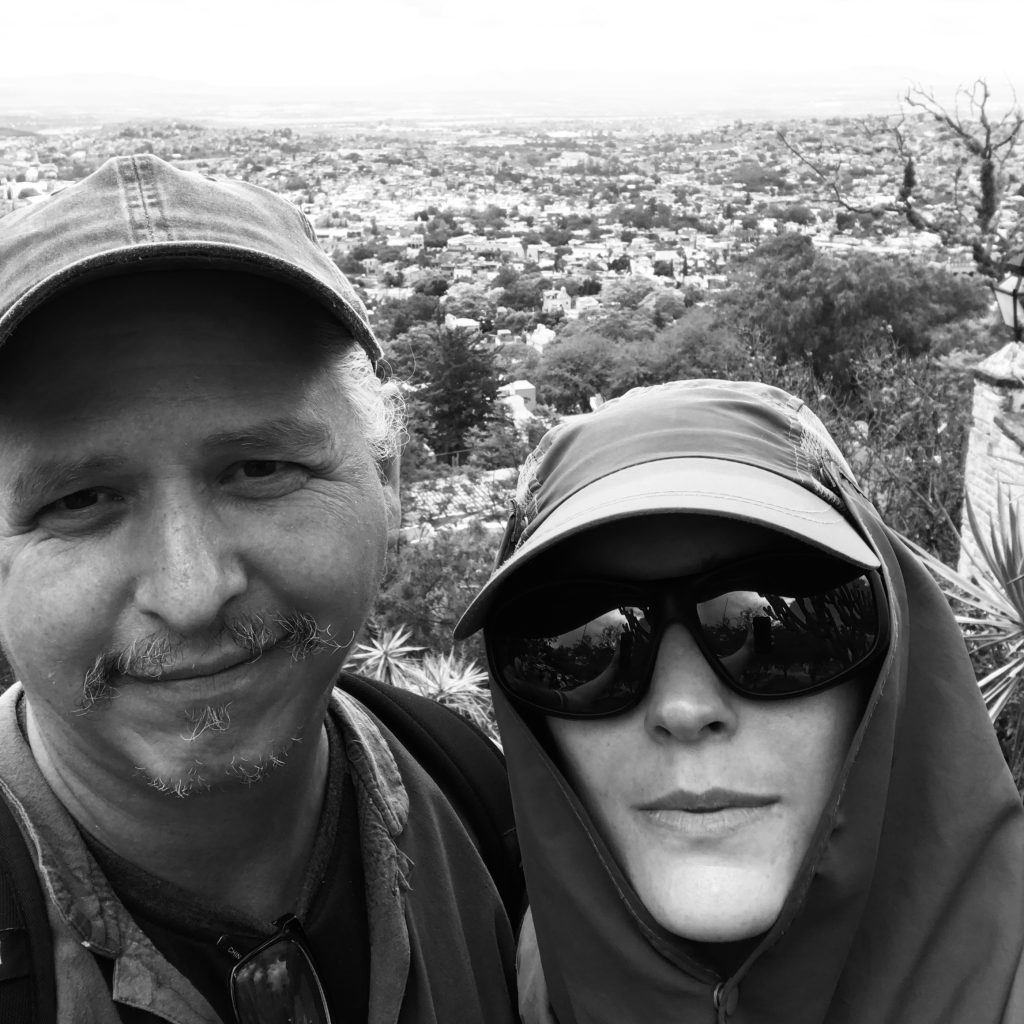 What kind of tour would you take?
Don't forget to tip the writer!