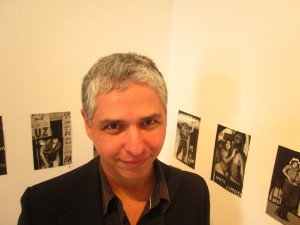 Like, duuh, I totally neeeeded to go shopping!
OMGeEZ.
No.
After nine months of working out of a work/live studio in Baja California, my
Human
had his first solo show in L.A. at
Luis De Jesus
-in case you have been out out of the loop. And I chose this momentous occasion in my Human's life over the the art occasions in the lives of other humans. That's just the way it goes when you are in love…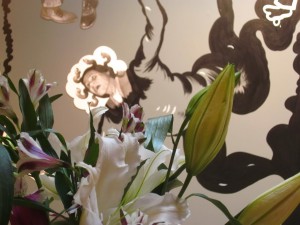 I was there to see the installation process finish and do little things here and there to help out. Mostly, it was stay low and not be a fuss. There was enough to do in preparation for the opening and I didn't want to get underfoot so I hid out in the front office most of the time doing what work I could for folks back in NY.
The opening turned out to be an all day event! No sleeping in for me! Because of transportation matters, In the morning there was a buffet brunch for collectors before the public opening. To amuse myself, I tried to take interesting shots of the space before it got too crazy. -Crazy? Young children came into the gallery with their parents. One child's giggling filled the whole place as he played hide and seek. It was not at all a bad thing. I am happy to see the small ones in attendance. It feels more right and normal that there is more inclusion at these art events.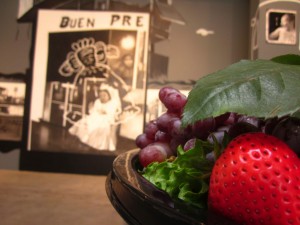 And I must sing the praises of the gallery owners Luis and Jay! They were were the most graciously accommodating people. And hard working! The day after the opening Hugo saw them (and his work) off to Brussels! I hope they have great success with what they are doing. They deserve it!
So, in those nine months that Hugo has been away from New York I've been able to see him for one month (in total) divided between two trips. Sure it was great for me to get away, but I miss him here. I know he would rather be in NYC. It was strange coincidence that so many different people were implying in their conversation that he should move to L.A. Hugo and I do have plans to move- but L.A.? That is a big question mark.
Other happenings on the sun-blanded street of L.A.
Impressions- I want to like it more. The parking garage in the bowels of the mountains and crowds lined up for a train ride seemed way to american amusement park cliche to be associated with seeing fine art, but this is California… Suggestion- Never go on a lovely Sunday afternoon.
Venice Beach -the Great Pacific Beach Bum sneezed on me. I now have a cold. Thank you.
Santa Monica. Did I mention sun-blanded?
In an Inglewood strip-mall parking lot next to a Starbucks some racism may have reared it's head. The milk substance dripped onto the passenger side of the car looked to deliberately placed to mean anything else but meanness.
Now that I am back in Brooklyn (alone again) I am a complete zombie that cannot spare too many more moments in this state.
Universe, come to my aide!
The dragon's grinning teeth are razor sharp. He is not always kind to dogs.